The Importance of Zero
by Matthew Godfrey, Ph.D. -- April 25th, 2013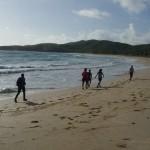 Early morning patrol for freshly laid leatherback nests – but none were to be found.
One of the main objectives of this field trip is to provide the exceptional opportunity to interact directly with wild sea turtles and the researchers who work with them. As you can tell from some of the stories, pictures and video, we have done this. But there are some other goals that are also important. One of these is learning field techniques such as attaching tags or measuring carapace length, as part of mark-recapture research projects. Another is exposure to some of the complexity and challenges associated with conducting field research, especially in marine waters. For me, one of the most important objectives is to show the students that sometimes, no matter how hard the team may try, it is not possible to see a turtle (or a nest). This happened several times during the trip, including morning surveys on Brava nesting beach on the north side of Culebra, nighttime patrols on Zoni beach in eastern Culebra, and during a transect survey for foraging hawksbill sea turtles over parts of the reef at the Canal Luis Peña Marine Reserve. Yet, seeing nothing remains important information, for example for studies of abundance or behavioral characterization of habitat use. Documenting zero turtles at certain places and times is nonetheless important, and remains a critical component in monitoring and research. Of course, being in places such as Culebra and Saint Croix makes it easier to accept patrols when you don't observe a turtle, because there are so many other beautiful things to look at. In the end, we were lucky to see turtles on almost all our outings, but I was pleased to have a few occasions when we didn't, so that we all could appreciate that a zero count is still important.