Day 8, Part II: Kalaemano o Kaʻupulehu
by Patricia Hooper -- April 28th, 2016
On Wednesday afternoon, we visited the Kalaemanō Interpretive Center, where we were fortunate to speak with two native Hawaiian practitioners: Leinaala Keakealani Lighter, also known as Auntie Lei of the Ka'ūpūlehu Marine Life Advisory Committee (KMLAC) and Pelika Bertelmann, of Hawaii Sea Grant (HSG).
Auntie Lei's moving talk at the Kalaemanō Interpretive Center. Photo by Andy Read.
Auntie Lei first introduced is to the history and importance of the ahupua'a of Kaʻūpūlehu (an ahupua'a is a unique Hawaiian form of community-based ecosystem management on the islands). She then spoke with us about KMLAC's community-based proposal to "rest" the coastal reef within the ahupua'a, in order to restore local fish that have been impacted by development and overfishing.
The proposal requires no fishing within the area for the next 10 years, as well as developing a subsistence fishing plan based on Hawaiian tradition, values and modern science for when the area reopens. With her grandson on her lap, she discussed the importance of protecting the reef so that future generations of her ohana (family) may enjoy it. Her personal story and passion brought many of us to tears. One of Auntie Lei's most resonant observations wass that while native Hawaiians and tourists both can love the island of Hawaii, how they love Hawaii is very different. Only the community members who have been there for generations truly have a connection to and understanding of "Mauka to Makai", or mountains to ocean, a term we have heard many times throughout the trip that refers to the interconnectedness of the Hawaiian island ecosystems.
After Auntie Lei's moving talk at the cultural center, we had a group discussion with Pelika about the differences between Hawaiian and western definitions of conservation. Pelika emphasized the importance of a sense of place, and noted that one of the largest issues with current western management strategies is restricting access to local communities and preventing the current generation from experiencing a sense of place. We discussed limitations to existing management, and how we could improve existing conservation and fishery regulations and headed out for a walk on the lava fields to the sacred Kalaemanō.
The class walking across the pahoehoe lava fields. Photo by Tricia Hooper.
Kalaemanō, which in Hawaiian means "the shark point", because of the tiger sharks commonly found along the shore, is the coastal region of the ahupua`a. The landscape and seascape are unlike anything we had seen before: pahoehoe lava fields gave way to staggering formations of rocks, crashing with the waves of the Pacific to create productive tidal pools and bays.
Many of us jumped into the ocean for a swim, as Pelika talked about the importance of the area to local communities. While in the tidal zone, Pelika showed us how to harvest ha'uke'uke, or shingle urchins (Colobocentrotus atratus), and O'pi'hi, or limpet (Cellana sp.). Both creatures are uniquely designed to survive in the high-energy surf zone – and are some of the freshest shellfish I've ever tasted!
Austin, Scott, KC, Ellie and Ashleigh in Pelika's classroom. Picture by Andy Read.
Visiting Kalaemanō was one of the most powerful and moving experiences of the entire trip. As environmental managers on the mainland, we often see issues from the triple bottom line: environmental, economic, and social. But what we fail to address is the very real spiritual connection and sense of place that many native Hawaiians feel to their homeland. This lesson is one that I will take with me back to the mainland. We are so thankful to these two passionate and welcoming women for sharing their personal work and their community's perspectives.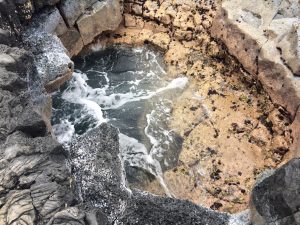 Small tidal pool with o'pi'hi and ha'uke'uke. Photo by Tricia Hooper.