Flandres Bay (Thurs., 5/27/10) – Gone with the wind: Frankly weather, we don't give a damn!
by Alison Stimpert -- May 28th, 2010
It was a dark and stormy night. The winds tore through the Gerlache with gusts up to 95 miles an hour. Seas were churning.
Snow blew off the tops of icebergs, sometimes in huge chunks that flew like missiles into the stratosphere, and sometimes loose, creating a thick mist resembling smoke, which made the icebergs appear to be on fire.  Meanwhile, the poor "little" (308 foot) Nathaniel B. Palmer bobbed around Flandres Bay like a rubber ducky in a bathtub with 5 two year olds who just had cake.  Its portholes were fogged and frozen with snow.  Inside, the scientists secured their equipment as they rocked back and forth in the swell.  Yet they were content.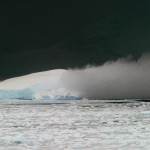 This contentment is likely because of the surprisingly successful previous 24 hours.  It's hard to imagine that only 6 hours prior, the winds were slack and the tag and prey boat sat in a field of new ice watching a logging whale, waiting for its tag to release.  The snow fell peacefully, blanketing the zodiac and its contents (and passengers) with about a 6 inch layer of flakes during the hour and a half that the boats were tracking the tagged whale.  Andrew stood valiantly on the bow, listening to the faint beeping of the VHF for signs that the suction cups had released from their host.  Ari directed driver Mark with a handheld compass due to the low visibility.  Alison recorded data, which involved 50% writing and 50% brushing away the ever-accumulating snow on the clipboard in her lap.  Yet they were content.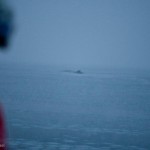 This contentment is likely because this tag was an unexpected triumph.  Just 18 hours prior, the research team launched the small boats in a last ditch effort to get a tag on a whale in Flandres Bay.  They had surveyed the area all day in very poor visibility, and had only seen this one pair of whales.  The tag boat did its best to keep up with the pair, but the whales were on a mission.  Short dive times and fast travel allowed them to cover some distance, and they definitely seemed to have a plan.  Finally the animals slowed down in an area where several other whales were resting.
Some social interaction took place, and then what appeared from the surface to be feeding dives, however none of the whales were quite consistent enough in their behavior to get close enough to tag.  Light was fading, visibility was closing in, and the small boats were far from their mother ship.  It was time to call it a day.  But then one whale decided to give the scientists a break.  He sat still just long enough for driver Kelly to execute a textbook tagging approach, and Ari stuck the tag on with ease.  A biopsy sample was quickly gathered on the next surfacing, and all of a sudden the day went from zero to hero.  Jump on it was heard on the radio.  There was dancing and there was joy.  And all were content.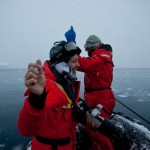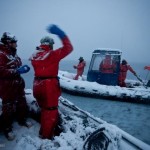 **note:  Check the blog from 5/18/10 for a new audio upload about the killer whale encounter!