Duke Environment Blogging Team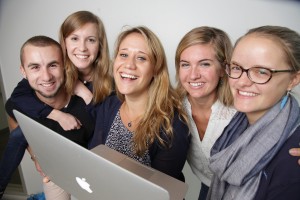 Being Nicholas School students means we're passionate about the environment. Whether PhDs, MEMs, or undergraduates, the students of the Duke Environment Blogging Team take that passion and translate it into words, photos, and videos. Our team works together and individually to open a window on the Nicholas School and the environmental world.
Meet the Duke Environment Blogging Team:

Tripp Burwell, Monkey Ropes
MEM '16, Ecosystem Science and Conservation
In Monkey Ropes, Tripp focuses on conservation, geographical, social, and developmental issues, with a particular eye towards the American South, Central Asia, Southern Africa, and predators.
---

Amanda Bushell, Fishy Business MEM – EEP In Fishy Business, Amanda dives into the world of seafood sustainability to answer the questions you didn't even know you had about the fish you eat and the $300+ billion global industry in which you participate.
---
Barb Cozzens, Bridging the Divide DEL – MEM In Bridging the Divide, Barb tries to bridge the gap between the worlds – some real, others imagined – that divide us on environmental beliefs. She'll explore the values and perspectives from across the geopolitical and cultural divides that perpetuate the urban/rural split.
---
Brianna Elliott, Living Blue MEM – CEM With over two thirds of Earth covered by ocean, we truly live on a blue planet. In Living Blue, Brianna explores humankind's relationship with the sea, with a particular focus on sea turtle conservation, marine habitat protection, sustainable fisheries and living blue in our daily lives. In a time when all ocean news seems to be negative, this blog also takes a look at what's working in marine conservation to protect our ocean.
---

Dave Grace,* Faith & Ecology: A Primer for Practitioners and Pundits
Divinity/MEM'16, Ecosystem Science and Conservation
In Faith & Ecology, Dave provides a bridge between the academic study of ecology and theology and communities of faith so that students, practitioners, and people of faith increasingly recognize shared ground and opportunities for contributing to the common good of the environment.
---
Megan Green, DEL: Where will you log in?, DEL-MEM'16
Megan is a first year DEL-MEM student, but her "day job" is a Program Manager at the local air quality agency in Charlotte, NC.
---

Meagan Knowlton, Water and Peace
MEM '16, Water Resources Management
In Water & Peace, Meagan discusses climate change issues, especially relating to water resources; adventures in navigating the MEM program; and explorations of the great outdoors of NC (or really any place that is out of some doors).
---
Theo Koboski, Point of Order MEM – EEP In Point of Order, Theo examines the nexus between environmentalism and government. In particular, Theo discusses current political events and their effects on the natural world and environmental communities.
---

Janet Larsen, Connecting the Dots DEL-MEM'16
In Connecting the Dots, Janet connects the dots among trends in energy, climate, food, water, transportation, security, and the environment at large.
---
Sarah Loftus, Fuel for Thought
PhD, ENV program, Year 2
In Fuel for Thought, Sarah muses on the fields of sustainability and energy from environmental, scientific, and engineering perspectives, and shares her experiences as a first-year graduate student in the Nicholas School.
---
Kati Moore, EcoNotes
MEM '16, Ecosystem Science and Conservation
In EcoNotes, Kati collects and comments on current ecological and environmental news and research in order to inform and engage readers on issues at the intersection of nature and society.
---

Suzanne Ou, Sea Bird A.B. – Environmental Sciences and Policy In Sea Bird, Suzanne examines environmental issues in the tropics and Asia, particularly regarding conservation and biodiversity management policies. I am studying abroad in South Africa and will be including cases from the region.
---

Anastasia Quintana, Think, Re-think, Re-solve PhD – MSC How do our biases affect how we study the world as "objective" scientists? In Think, Re-think, Re-solve, Anastasia will look at (mostly) environmentally-focused recent world events and scientific findings through a critical social science lens, will re-analyze and discuss them, and will offer up specific solutions that YOU can be a part of (where applicable).
---
Scott Winton, Birds in a Changing World 
PhD, ENV Program, Year 5
In Birds in a Changing World, Scott explores the ecological and biogeochemical roles of birds and discuss how forces like climate change are affecting bird populations and functions. His blog also celebrates bird beauty and diversity as well as all who consider themselves to be birders or birdwatchers.
---
DEL-MEM bloggers: Where Will You Log In? The DEL blog shares experiences and thoughts from environmental professionals enrolled in the Duke Environmental Leadership program's ONLINE Master of Environmental Management degree as they balance career, family, life and school. Logging in from across the country and world!
*Duke Environment Blogging Team Leader
Read, share and follow our graduate students' blogs!
Please contact blogging@nicholas.duke.edu with all blog-related comments and inquiries.